- on my way to Florence, carting brother E, Sophia, her would-be baby daddy, and horny/grumpy old man, aka Harley, we saw a childrens' bouncy ball gleefully rolling across the highway. for whatever reason, this has utterly fascinated me. it bounced and rolled across st. matthews road highway like it was nobody's business. how does a damn inanimate object appear to be gleefully happy? can anybody answer that?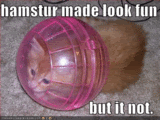 - today as i was returning home from errands, i spotted big, bright red splots on the road. a lot of them. some were smeared. and the first thought that crept across my mind was, "holy shit? did somebody get run over there?" that's gotta be morbidly odd to think that. (is it also weird that every time i see garbage bags aside the road, i think maybe there's a body in there and it was dumped off by some serial killer that would make Dexter look like Sheri Lewis and Lamb Chop?) so yea, back to the red splots on the road, i actually started getting a wee-bit concerned, you see. because that stuff was still bright red, therefore it must've JUST happened. and in the wonderful county that i reside in, pedestrian accident are no stranger to the headlines. so i began searching for some figmented hit and run victim when i finally spotted the culprit; a bucket of overturned strawberries. yes my ladies and lads, our hit and run victim was not that of an orangeburg native, rather, that of some poor bucket o' strawberries.



- there is this graveyard here in orangeburg county that truly despises me. highly visible from the road ON THE MAIN PROPERTY of the graveyard, they stockpile the dirt dug up from the recently used graves. and sometimes, if you're lucky, you can catch a stockpile of flowers absconded from graves as well. its a damn fine thing that i reside in the rural area of this county, because what orangeburg county has become known for sickens me.