they say that i am a drama queen. okay, i admit it, i can be. so check this out: like a year or so ago, i gather this "packet" up for my Mama because i told her that there was something wrong with Grandma. but no, Sarah's just bein paranoid, just being a drama queen. well,...guess. the. hell. what.

the drama queen was right. see. i gotta say it... I TOLD YALL SO. we don't have a diagnosis, because Grandma's appointment is on Monday morning. we will see what the doctor says. i KNOW that it will be SOMETHING. my intuition says so.

too much is piling up. and actually none of it even really pertains directly to me, per say. its all circled around Grandma. i believe that sometime we are connected to certain individuals on this earth because of a rare, deep, solidified connection that two people share. not necessarily soul mates, merely soul connections. like for example, you know when somethinng is wrong with the other person when you're no where near them and you've not spoken to them. its not seeing somebody, not being in somebody's life for a while, and the next time you see them, its as if no time has passed. its as if when you wrap your arms around them for a hug, your soul takes a breath of air that its been gasping for.



i've not encountered very many people with whom i've had that connection. but i can say that my grandma is one of them. and i feel her stress, and mainly her anxiety. i'm kind of panicky. so many changes.
too many changes. its too fast. us taureans don't do well with change. its as if the world is whizzing by me like the wind races by your fingers out the window of a car doing 80mph on the interstate.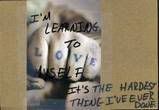 i'm trying to calm down, to not get bogged down,...to not shut down. i am desperately trying. i wish my new meds would kick in already.
in the famous, loving words of my grandma, per her late sister, "if you can still bitch about it, everything's okay." lol. that's my grandma.