what in the fuckity fuck were the head homo's up at showtime thinking, ending the L Word like that?! omg does NOT even begin to cover it. seriously. fucktard bitches. fucka youuuuuuuuuuuuu!!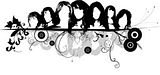 because my wifey is at work and hasn't seen the damn thing, i shall'nt do a recap.


my BFF was here this weekend and helped us get a lot accomplished. as a surprise to my beautiful wife, liz and i took my fur babies out for a down home photo shoot. a trip to big lots to purchase some silver shadow box picture frames, and a bit of glass cleaner later, voila!! as another surprise, we framed some alaskan prints i had given my honey a few years ago. aaaaaaand, last but not least, we bought one of dem dere big picshure frames with all dem holes in it, and made a collaborative collage of sorts of both families intertwined. its super classy.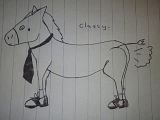 i believe my ocd-like attention to details will pull all of the things in our home together quite nicely. it'll appear as if mature people reside there! boy, won't visitors be fooled?!
below are some pictures from this weekend. the liquor bottle pictures are from an accident scene of somebody we know. it was a drunk driving accident, non fatal. i don't know if that bottle flew out of the vehicle and landed that way in the tree, or if somebody placed it there. either way, this is exactly as we found it. it struck me as a powerful sight. i don't know why. but i had liz shoot it for a great photo. and by the way, aren't my children just the cutest you ever saw? these pictures truly captured their personalities. -side note- if you look closely in sophia's pictures, you can see a bee that flew in front of the camera. it caught sophia's attention too.