today was like a bright sunny, warm windy day.
a warm gentle wind came along and whirls itself around my soul,
reminiscent of how a twister engulfs various things.
i was catapulted into a time of never ending sunshine,
tutu's and tiaras,
laughs,
and the scintillating scent of yesteryear.


"mimi," she says.
this beautiful child before me,
embodies true innocence and hope.
but it was her who changed my station to tune me back into present day reality.
it was this tiny tot full of love
that bestowed grief upon me in this moment of glory.
this tiny tot of grace lavished my heart with the sorrowing reminder
that there is a huge, gaping hole in this world.


it still stuns me that good can still win over evil.
had it not been for this entity of love,
darkness would have prevailed.
to think what my reality would currently be if it had triumphed...
that, that is the stuff nightmares are made of.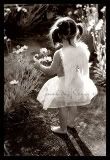 this world is far better for having held a person of such amazing grace, beauty, and true love as my Nana. she is what life is all about. to have been taken from this life thirteen years ago, and to have your absence still felt, your presence still mourned... that's life. that's the life to strive for.


her daughter said today, "i could never be Nana, her shoes are too big for even me to fill." and while Mrs. SB comes mighty dang close, she is absolutely right. nobody can ever fill those shoes.